Pressuring Washing Odenton Md
Free Estimates
Licensed & Insured
Fully Uniformed
100% Satisfaction Guaranteed
Columbia Brothers Power Washing is Odenton Maryland's Premier chosen company for all your exterior washing needs. From cleaning your driveway to washing your roof, our professionally trained employees will revitalize your commercial or residential property instantly. Removing algae, mold, bacteria and other debris will help keep your home and business healthy and free of pollutants and allergens. Contact our team today for any questions you may have. 
Call us For a Free Estimate 
(443) 393-3007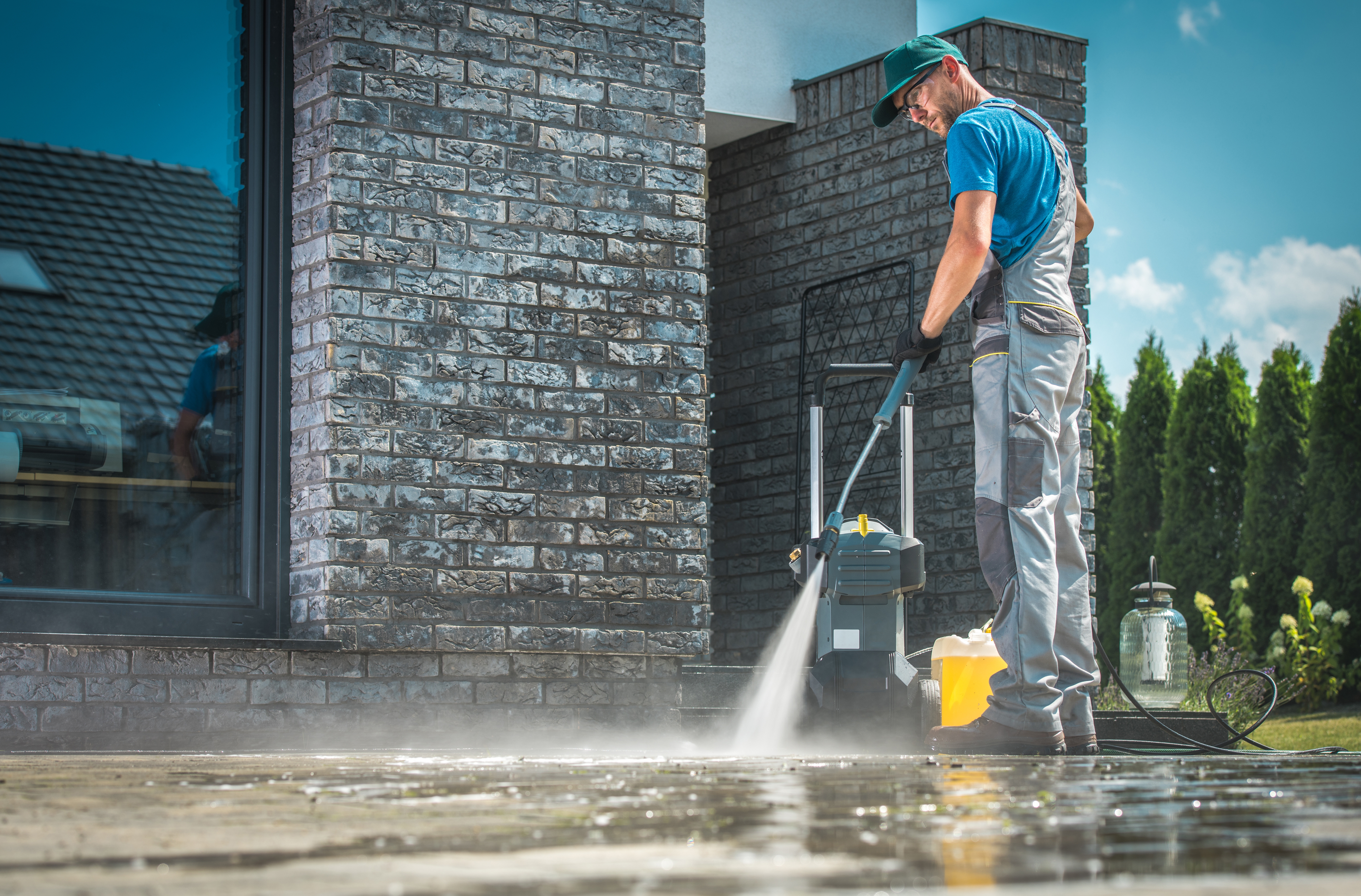 Residential Pressure Cleaning 
Mildew and algae can make your house the eyesore of the neighborhood. Additionally, what most fail to recognize is that it can also deteriorate the finish and shorten the lifespan of the very material that makes up your house, causing color fading and oxidizing on the siding. This is why we recommend having your house  professionally pressured washed with low pressure every 12-18 months. With our low-pressure house washing system we can safely remove all mildew, mold, algae, grime, and other contaminants. So add the curb appeal back in to your home and increase its value by keeping the exterior clean and free of all bacteria and dirt. 
Commercial Power Washing 
In the business world, first impressions are everything. The appearance of your commercial building, represents who you are and what you stand for as a company. Allow us to keep your property clean and make an excellent first impression to all your potential customers. We can arrange to power wash the exterior, clean your roof, wash you windows, weekly, bi-weekly, or monthly. Whatever fits your schedule the best. Our skilled employees will show up on time, and get straight to work. Best of all you won't even realize they are there! Contact our staff to set up your customized cleaning schedule today.  
Local Exterior Washing Services 
Power washing provides a quick, effective solution for a wide range of different threats. By regularly maintaining your property, and cleaning your roof, walls, siding, driveways, sidewalks, fences, and gutters you can guard against:
Harmful Mold –

 

If left unattended, mold spores will take root in wooden structures and gradually weaken them. This will cause harm to both the appearance of your building and its safety. Regular power cleaning uproots these spores and drives them away, preventing mold from ever growing deep enough to cause serious damage.
Leftover Debris –

 

As you walk over patios, decks and other exterior surfaces, you grind any dust or dirt on them into the wood. Over time, this can seriously harm the material, both directly and by opening up an avenue for water, insect and mold penetration. Regular power washing keeps dust and dirt off your deck, preventing the problem from arising in the first place.
Stubborn Stains –

 

Paint and other strongly pigmented materials can permanently discolor driveways if left alone for too long. Power washing these surfaces rinses away these materials before they sink in and are there to stay. 
Our Exterior Washing Services: 
Window Washing
Gutter Cleaning
Roof Washing
Concrete Cleaning
Brick Pavers
Aluminum Siding
Fence Cleaning
Vinyl Siding
Wood Decks
Soft Washing
Graffiti Removal
Patio Cleaning 
Patio Furniture Washing
Pressure Cleaning
Serving the Surrounding Cities:
Arnold

Bowie

Crofton

Crownsville

Fort Meade

Gambrills

Glenn Dale

Millersville

Pasadena

Seabrook
Odenton Md 
21113 Power Washers
When you join your neighbors in Odenton Md and choose us to clean your property, we can guarantee you will receive reliable, trustworthy, and high quality services. We are dedicated to providing our customers with the absolute best. Because of our dedication to our clients, we have taken the time to professionally train each employee in properly cleaning every crevice on and around your property. Our employees are skilled and highly attentive to details. We are your one stop company for all your exterior washing needs. 100% Customer Satisfaction Guaranteed. 
Call Us For a Free Estimate Today!
(443) 393-3007 
Columbia brothers power washing
Average rating:
7 reviews
May 16, 2019
Excellent service and a great value. Had my deck washed and sidewalks cleaned, i would recommend this business to anyone looking to have any type of power washing job done.
May 16, 2019
Really good work and very professional. I'll definitely be a repeat customer. Thanks again!
May 8, 2019
5 star company! The employees were very careful around my flower beds, and treated my home with respect. I will gladly hire this company again and recommend them to my friends and family!
May 8, 2019
I had this company come and clean my windows and gutters, and oh my goodness what a difference it is! I could tell as soon as i saw the finished results, but they also took before and after pictures, and lets just say my home looks brand new!
May 1, 2019
Company is very trustworthy, honest, and they do a great job. They gave me my estimate very fast, and put me on the schedule for later in the week. I am very impressed with Columbia brothers power washing. would highly recommend.
May 1, 2019
The owner is very professional, honest, trustworthy and reliable. Plus all the employees were very kind and polite. I will be hiring columbia brothers power washing again next year!
May 1, 2019
Great professional service, hands down the best power washing company in town! I highly recommend this company.