Graffiti Removal Columbia Md
Free Estimates
Licensed & Insured
Competitive Pricing
100% Customer Satisfaction Guaranteed
Our locally operated business is well known throughout the state. We treat our customers like neighbors, and our neighbors like family- giving you our absolute best. We have two main goals with the Columbia graffiti removal service we offer. Bring the facility back to like-new condition and save you money and hopefully, more importantly, your time. Other exterior building maintenance companies and pressure washing companies do not include graffiti removal in their service offerings, but we do! Our entire team is committed, trained and experienced in providing clients with a wide range of interior and exterior building maintenance tasks including graffiti removal. Plus we offer clients a 100% SATISFACTION GUARANTEE. Schedule Your Free Estimate Today. 
Call For a Free Quote
(443) 393-3007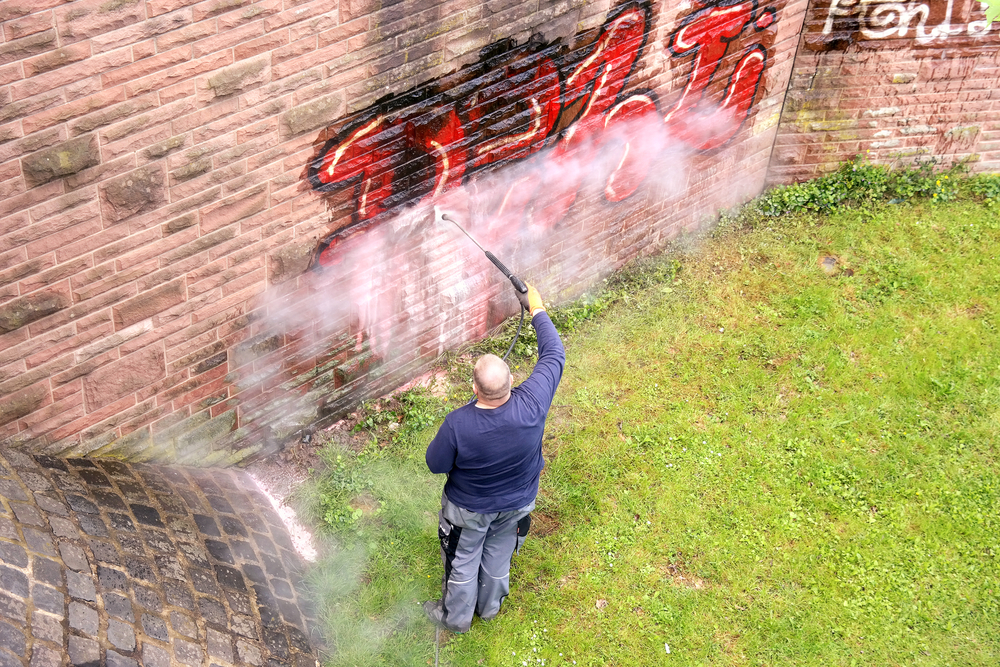 Graffiti Detracts From Your Business
The moment a pedestrian walks by your business location, the first thing they notice is its appearance. This is why it is an extremely important thing for the entire community to remove any graffiti that may be drawn on your building. Graffiti affects not only the business left to remedy it, but also the community. A citizen's sense of safety can be hindered when graffiti tags are everywhere. The cost to private property owners and business owners in both time and money can be staggering. This is why you need to contact our professionals. We provide fast and effective solutions that will get your local business looking new again and attract the clients it deserves.
Spray Paint Elimination Services
Do not waste your valuable time attempting to scrub and clean the graffiti and spray paint off your exterior. It is laboring and and time consuming. Our contractors have the most effective solutions, that are guaranteed to save you time and money. Along with graffiti removal we are rated as a top commercial power washing company. If you are ready to clean the exterior of your commercial space, contact us for bundle pricing. 
Our team is committed to operating in a way that works in harmony with the environment. We provide solutions to any client, big or small, by dispatching experienced, passionate graffiti removal techs and utilizing the greenest solutions possible. Contact our expert cleaning pro's today for a free quote. 
Affordable Cleaning Rates
Outsourcing this tedious facilities maintenance task of removing graffiti from the exterior of your building, walls, signage, etc. can be exhausting. Our company has been saving clients the back breaking manual labor and restoring commercial properties to their original condition for a very reasonable rate. If you are in need of our graffiti removal services, give us a call.
We are always ready to assist our clients and offer all of our professional services at affordable prices! Our dedicated staff invests the time and energy necessary to be well prepared for any unique requests or special concerns our clients may have.
#1 Rated Graffiti Removal Contractors Columbia MD
As the #1 Rated Graffiti Removal Company in Columbia Maryland, we understand that the quality of our work reflects on your property, which is why we strive to do things right at all times. We pledge to all of our customers that you can count on our knowledge, expertise, and experience in the industry. Our cleaning experts have powerful and effective solutions to get rid of any writings and tags that may be hindering your business from growing.
If you are not happy with our work we will do everything we can to fix that. We like making our customers happy. This includes in how we arrive on time, communicate with you to find out exactly what you would like us to do and making you aware of any potential issues we see. We don't offer our 100% Customer Satisfaction Guarantee lightly. We mean it.
(443) 393-3007
Columbia Brothers Power Washing
Average rating:
7 reviews
Feb 8, 2019
Fast graffiti removal! Thanks to you guys you helped make your store front look more professional and clean. I highly recommend this company.
Feb 5, 2019
Fast service, Great Pricing!
Feb 5, 2019
This company offers great graffiti removal service that really works! Thanks for the great job.
Feb 5, 2019
Thanks for the awesome job cleaning up the terrible graffiti that was painted on our building!
Dec 26, 2018
Thank you columbia brothers power washing for cleaning our walls at our commercial building. The graffiti was horrible and you fixed it quickly! We are very happy with your services!
Dec 26, 2018
I was in desperate need of some help to remove graffiti off the exterior of my business, and these guys came to my rescue!! They cleaned it faster than i could have and the results are amazing! 5 stars!
Dec 22, 2018
We appreciate your excellent graffiti removal services!